AAA Academy Pilot's Path – from the first flight to the Glass Cockpit!


The glass cockpit training has a definite advantage for the pilot
In AAA, your first step to the most exciting pilot career starts from training on two-seater C-152 aircraft, which in tune with introductory MCX Redbird Flight Simulator experience grants you with PPL, or Private Pilot License.
Once you move forward to Commercial Pilot License (CPL) stage, additional cross-country experience and training on four-seat C-172 analog aircraft polishes your basic navigation and aircraft handling skills during challenging weather conditions and air-traffic environment in the Philippines.
Furthermore, as a CPL holder, transition to C-172 Glass Cockpit together with the full-motion MCX Flight Simulator during your Instrument Rating course give you a privilege to further advance the knowledge and gain practical skills in understanding the complex systems of glass cockpit equipment. The glass cockpit training has a definite advantage for the pilot, resulting in successful future transition to a modern fleet of regional and international airlines.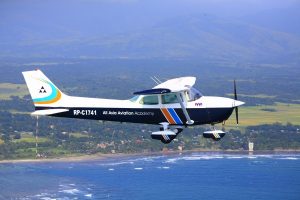 AAA top-quality pilot training provides yet another advantage to further match the airline standards, by introducing the latest Twin Engine TECNAM P2006T Glass Cockpit Aircraft, to further assist our students with the future employment in aviation industry.
The training on TECNAM P2006T enables the pilot to gain the knowledge of Multi-Engine aircraft as well as get hands-on experience on operating one of the most advanced twin-engine airplanes in the world. TECNAM P2006T is a four-seat aircraft equipped with two four-cylinder four-stroke Rotax 912S3 liquid cooled engines of 100hp (73kW) and latest Glass Cockpit Garmin equipment.
Training on a twin-engine, retractable gear and glass cockpit Tecnam benefits our student-pilots to receive the highest quality airline standard training, which further assist our graduates with a smooth transition to the airlines, especially on Boeing and Airbus type of aircrafts.